Boston-Tulla Trad Exchange
We are excited to unveil our Trad Youth Exchange Program that we have been putting together over the last several years!
Tulla Youth Arrive in Boston
We are bringing over 15 young All-Ireland Champion U12 Ceili Band musicians from Tulla, County Clare. This group of young musicians aged 9-14, with their teachers and parents, will meet, perform with, and develop friendships with 14 young musicians from the greater Boston area at music workshops, concerts, and other cultural events. We would like to invite you to come hear them play at two concert/fundraiser events.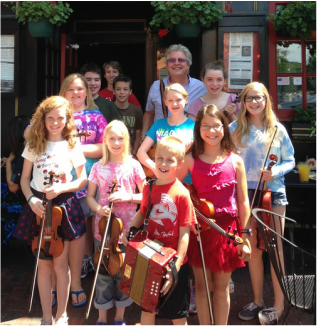 Fundraiser Events November 7th & 9th
Our two main events are the Trad Youth Concert at the Knights of Columbus Hall in Melrose on Friday, November 7th, and the Mary MacNamara & Friends CD Release Party at the Burren in Somerville on Sunday, November 9th.
ALL PROCEEDS FROM THESE CONCERTS go to support the Trad Youth Exchange Program! – specifically the costs of hosting the Tulog group and travel costs for our youngsters to visit them in Ireland in February 2015. The TULOG group will also be selling copies of their fabulous new CD called "Unfolding." You can hear clips of this on Saturday, November 1st when Lisa Coyne speaks with Brian O'Donovan on A Celtic Sojourn at 4pm!
Buy Tickets Online!
Tickets to these two events are being sold on EventBrite ~ see links below – Tickets are also available at the door.
Trad Youth Exchange Concert / Fundraiser at Knights of Columbus in Melrose, Friday, Nov. 7, 8PM
8pm performance by the Tulog Band & Realta Geala at the Melrose KofC, with special guests Mary MacNamara, Pat Hutchinson, Jimmy Noonan, Kathleen Conneely, and more! There will a cash bar all night also! Tunes to follow the concert (Donation suggested $20 – pay what you like!)
Mary MacNamara CD Release Party at The Burren, Sunday, Nov 9, 3PM Mary MacNamara CD Release Party at The Burren, Sunday, Nov 9, 3PM
Sunday, November 9th, at the Burren, 3-6pm – Renound concertina player Mary MacNamara's CD release party at The Burren  [25 Elm St, Somerville, MA 02144] hosted by Brian O'Donovan. Mary will be joined by the Tulog Band, Realta Geala, and special guests. Tunes afterward until 7pm. (Tickets are $20) – Limited seating. Don't be left out!
Concert Window – Listen and Donate!
If you can't make the concert (and you should try to!!) and choose to watch it online instead, you may watch via Concert Window — All proceeds will go to benefit the Trad Youth Exchange. Here are the  links:
Donations Welcome! Online or Mail a Check
Donations are welcome! Donate online  or send a tax deductible contribution by mail .
Make check payable to  CCÉ Boston Music SChool
and please note TRAD YOUTH EXCHAGNE on the check.
Mail to:
TRAD YOUTH EXCHANGE
c/o MIKE HICKEY
100 WOODPECKER ROAD
STOUGHTON MA 02072
Find out more about the Trad Youth Exchange supported by Comhaltas Ceoltóirí Éireann Reynolds-Hanafin-Cooley Boston Branch at http://tradyouthexchange.weebly.com/ .
You are in for some fabulous music at the concerts! Please come out and join us and help us keep the tradition growing!
Tara Lynch, Chairperson
Comhaltas Ceoltóirí Éireann ~ Reynolds-Hanafin-Cooley Branch