Chris Droney, Legendary Musician, R.I.P.
Globally, the trad community is on 'pause' as they reflect on the life of Chris Droney, legendary concertina player from County Clare, after his passing at the age of 95. His legacy will continue for many years to come. Chris was also a family man and the beloved older brother of two of our long time members, Frank and John Droney. On behalf of the Reynolds Hanafin Cooley Board and its members, we extend our condolences to John, Frank and the entire Droney family. Chris's death occurring within days of Jim Droney's death, their nephew in Connecticut, has got to be difficult for this family. Please remember them all in your thoughts and prayers.
Ar dheis Dé go raibh a anam.

Legendary concertina player Chris Droney has passed away, at the age of 95.
The Bellharbour native had been renowned across Ireland and abroad as an outstanding ambassador for Irish traditional music for several decades now.
Chris was the figurehead of the Droney family, which is renowned in music circles, with son Francis and daughter Ann, while many of his grandchildren continue the family tradition.
In 2012, Chris Droney was named as Clare Person of the Year while two years later he was awarded a Lifetime Achievement honour at the TG4 Gradam Ceoil awards. In 2018, he was bestowed with the annual MORGlor award.
In Clare, however, he will be best known as one of the most enduring and beloved figures in traditional music circles.
May he rest in peace.

The above picture and text was posted on the clare-fm Facebook page.
Chris Droney's Obituary
Link directly to Chris Droney's obituary.
It has been re-printed it here for your convenience.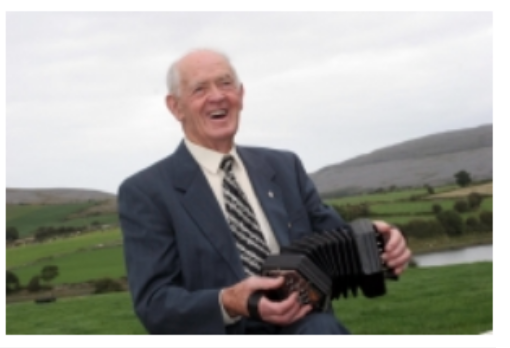 Chris Droney, Bellharbour, Co. Clare, passed away peacefully, after a short illness, surrounded by his loving family, at UHG on Wednesday 9th September. Predeceased by his two brothers, Gussie (Jimmy) and Joe (Patrick) and very recently, his nephew Jimmy (USA).

He is survived by his devoted wife Margaret, his loving children, Jimmy, Ann, Clare, Francis, Declan, Joseph and Caroline, his grandchildren, David, James, Áine, Iarlaith, Oisín, Aoibhín, Ailbhe, Doireann, Cathal, Gráinne, Éanna, Christopher, Cian, Meaghan, Saileóg, Cillian, Ciara, Joey, Robin and Heidi and great-grandchildren, Hanorah, Líobhan, and Seán, sons-in-law, daughters-in-law, relatives, neighbours and a wide circle of friends.

May he rest in peace

House strictly private due to COVID 19 pandemic.

His funeral cortège will arrive at St. Patrick's Church, New Quay, on Saturday, 12th September, for a private family Requiem Mass at 12 noon.

Those who would have liked to attend, and be part of Chris' last farewell, can view the mass on http://funeralslive.ie/chris-droney/ or are welcome to stand outside the church grounds, along the route from St Patrick's Church to Bellharbour village, observing social distance in accordance with Government guidelines.

The funeral cortège will proceed to his "final resting place in Peaceful Corcomroe".

Condolences to the family may be left on the online page below.
Published on rip.ie Thursday 10th September 2020

Now that you've read his obituary, listen to Chris …in his own words.
This is a recent video (August 2020) published by TG4, narrated by Chris himself, talking about his life "in the heart of the Burren mountains" and his love of music and how it has been passed down from his grandfather and how it continues to be handed down. https://www.facebook.com/gradamceoil/videos/297030401383421
Chris Droney's Music
And listen to his music. It defined much of his life.
Chris Droney, Francis Droney, & Áine Droney playing at Greene's Pub, Ballyvaughan, Co. Clare in 2013 https://www.youtube.com/watch?v=6MZmdm8UfYc
Chris Droney on concertina with Kitty Linnane on piano "two great heroes of the Clare tradition" performing three reels https://www.youtube.com/watch?v=DtBI5PKK9-M
Chris Droney with the North Clare Trad Group in a toe-tapping pub session https://www.youtube.com/watch?v=_An50wziSRU
Dave Flynn & The Clare Memory Orchestra present the Bellharbour Droneys, featuring some of the best Irish traditional, classical and jazz musicians around . At the end of the 2nd Movement 'North Clare' when Clare concertina legend Chris Droney came on stage as special guest with his children Francis and Aine the age range on stage was from 11-­88. (music only) https://www.youtube.com/watch?v=FyyckI1hicU
Chris Droney recorded live at the 2014 Gradam Ceoil TG4 Irish music awards in Belfast. We are delighted to see him get up and set dance beautifully to Miss Thornton's reel. https://www.youtube.com/watch?v=2FLy5Js2xeY&feature=youtu.be