CCÉ Northeast Regional Hall of Fame Inductee Michael Hanafin and William Hanafin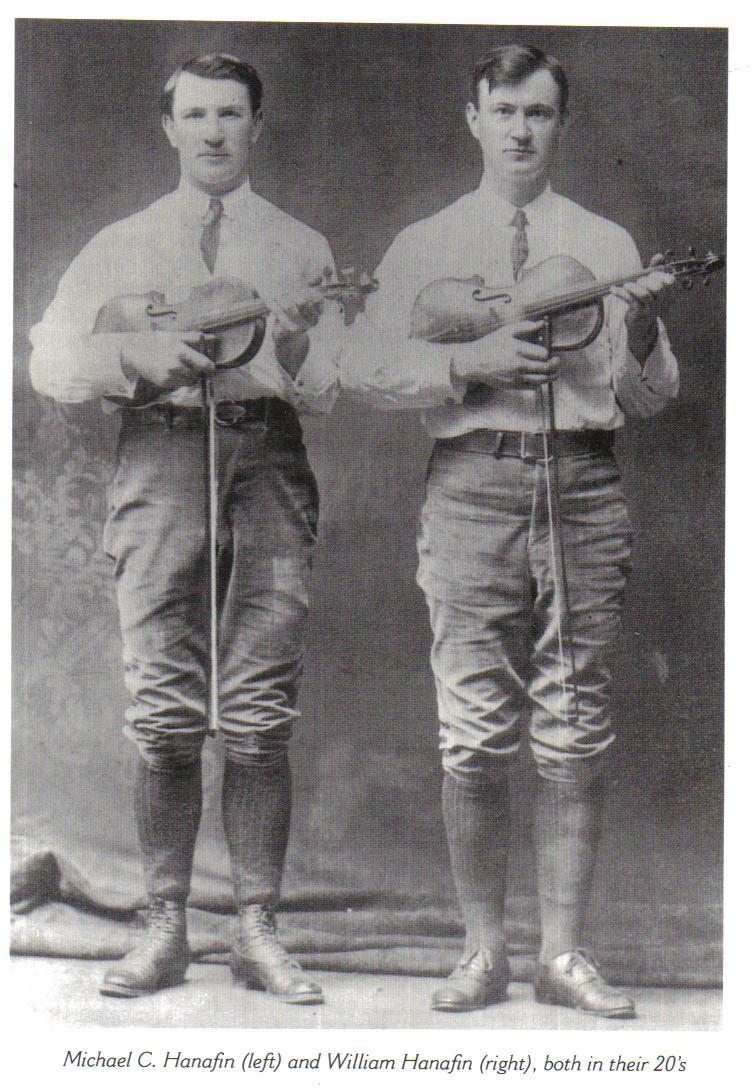 Inducted to its The Hall of Fame by The Northeast Region of the North American Province – November 6, 2004
Michael C. Hanafin (RIP, 1880-1970) (fiddle) and William Hanafin (RIP, 1875-1924) (fiddle and uilleann pipes)
Early life
The Hanafins will live on forever for their contributions to Irish music. Michael and William were born in Callinafercy (near Milltown), Co. Kerry, Ireland. When they were young boys, their home was known far and wide in Ireland as a gathering spot for Irish musicians. The Hanafin home was a favorite visiting spot for pipers, fiddlers and step-dancers.
The two Hanafin brothers were known for their musical gifts on fiddle, flute, tin whistle, and the uilleann pipes. Michael played the tin whistle, flute, and fiddle as a young boy, but his true love was the perfecting of his violin playing. Likewise, William as a young boy played flute and fiddle. Parents Bessie and Cornelius Hanafin were well known for their performances of Irish stepdancing.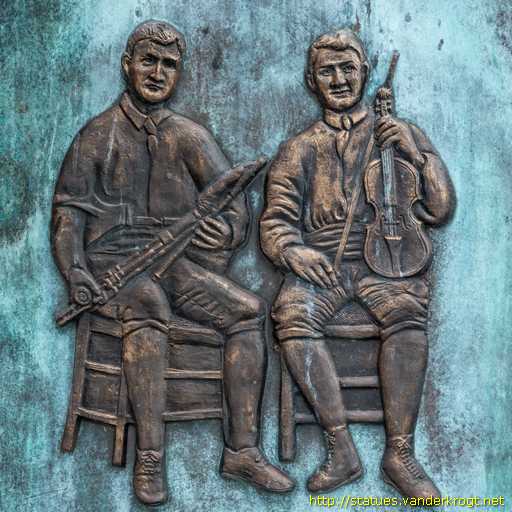 William "Billy" Hanafin
 As a young boy, William traveled to stay with relatives in the Boston area, and while there he learned to play the uilleann pipes. He visited home again, but returned to Boston, this time bringing his younger brother Michael. Both boys emigrated to Boston toward the end of the 19th century, and became good friends with another famous musician, Dan Sullivan. They went on to perform with Dan Sullivan and flute player Daniel Moroney.
Michael Hanafin
Michael married Maryanne Frances McCarthy who came from Killorglin, Co. Kerry. On any Sunday afternoon, you could find Irish musicians playing their favorite tunes in the home of Michael and Mary. They had ten children, four boys and six girls. Their daughter Kathleen presently lives in Weymouth, Massachusetts (in 2008 at the time of this writing). William married an American girl; they had seven children-three boys and four girls; two of these daughters, Eileen and Kathleen still live in Massachusetts.
Music and Dance
In the early 1900s, the Hanafin Brothers wrote and recorded their own music. They performed at the Kerry Ball, at weddings, parties and numerous socials, and their music was also played on a weekly radio program. Michael also won a gold medal for his Irish stepdancing.
The gift of music and dancing, cultivated by both brothers in Ireland in their youth, was brought to the United States and passed on to their children who were also Irish stepdancers. Michael's son Connie was known for his accordion playing; he performed along with his father, and eventually established his own band, well known throughout the Boston area.
Death
William died of influenza in 1924 at the age of 49. Michael lived to the age of 90 and continued to play at family gatherings until his death in 1970. A memorial to the Hanafin Brothers was unveiled in Milltown, Co. Kerry in August of 2003, by Comhaltas Ceoltoiri Eireann.
This Page  revised 9/3/2008