CCÉ Northeast Regional Hall of Fame Inductee Joe Derrane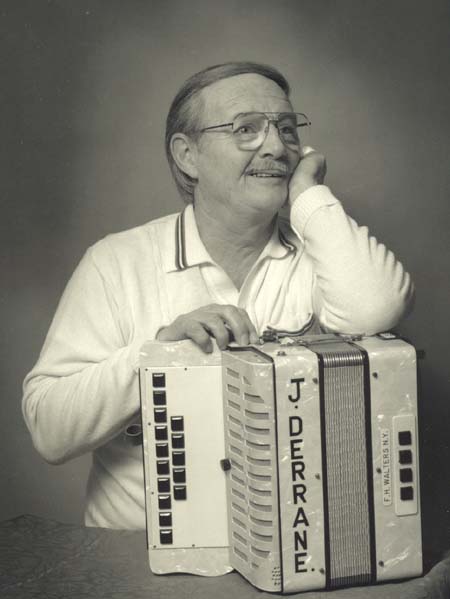 Accordion player Joe Derrane, a member of the  Reynolds-Hanafin-Cooley branch of Comhaltas Ceoltóirí Éireann, (button accordion) was inducted to The Hall of Fame by The Northeast Region of the North American Province on February 21, 1998, the first year of such honors.
"just once more, for old times' sake"
Joe Derrane enjoyed many years as a button accordionist in the "kitchen racket" (house parties) and the popular dance halls of Dudley Street in the Roxbury section of Boston. When the dance halls closed and the Irish music scene scattered in the mid-1950's, Joe moved on to more lucrative music venues, which took him away from the button accordion and the traditional Irish music he played since the age of ten.
Although he recorded a series of Irish tunes on 78 rpm in the 1940s and '50s, he disappeared from the traditional music circuit until performing at the Irish Folk Festival at Wolf Trap in Vienna, Virginia in 1994. This video clip shows an excerpt from "As Played by Joe Derrane (1995)", a documentary about Joe Derrane and his re-emergence into the traditional Irish music scene.
See Joe Derrane (R.I.P).
Return to Hall of Fame