Joe Derrane, RIP
The Reynolds-Hanafin-Cooley Branch of Comhaltas wishes to extend its sincerest condolences to the family of Joe Derrane (Hall of Fame 1998) on his recent passing.  He was truly one of the legends of traditional Irish music in America and throughout the world.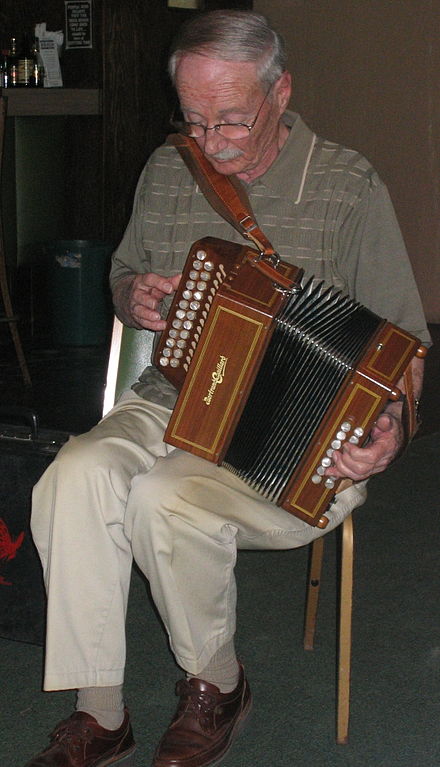 Early Years
Born and raised in Boston and while still a teenager Joe was playing his 2-row D/C# accordion in the various Irish dance halls at Dudley Street in Roxbury.  He became widely recognized for his highly ornamental and spirited playing.
Return to Music Scene
After a long hiatus and on the persistent urging of the well-known Celtic music critic Earle Hitchner, Joe began his return to traditional music culminating in his appearance at the 1994 Irish Folk Festival at Wolf Trap in Virginia.  His performance was met with such great acclaim that Joe began his now famous second career.
Recognition
He toured throughout Europe, played with The Chieftains at Symphony Hall in Boston, appeared many times on radio and television, and received a Heritage Fellowship from the National Endowment for the Arts.  In 1998 Joe was inducted into the Comhaltas Hall of Fame in recognition of his outstanding contributions to traditional Irish music.
Funeral Arrangements
Joe died on July 22nd 2016 at Good Samaritan Medical Center in Brockton, MA.  His funeral will be from the Hurley Funeral Home, 134 So. Main St. (Rt. 28), Randolph on Friday, July 29th at 9:15am followed by a funeral mass at St. Mary's Church in Randolph at 10am. Relatives and friends are respectfully invited to attend. Visiting hours Thursday, July 28th from 4-8pm. Interment St. Mary's Cemetery, Randolph. In lieu of flowers donations can be sent to Homes for Our Troops, 6 Main St., Taunton, MA 02780.
[Barbara Davis]