CCÉ Northeast Regional Hall of Fame Inductee Jim Flynn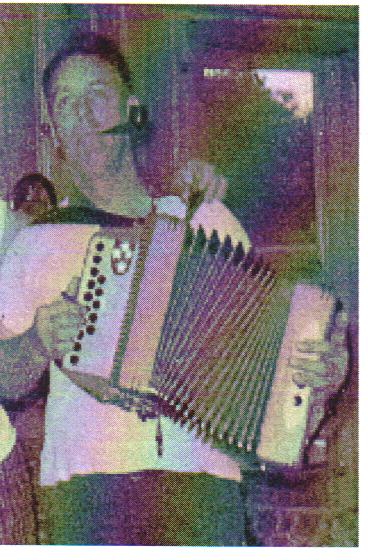 Jim Flynn, talented musician on the button accordion and harmonica, was inducted to The Hall of Fame by The Northeast Region of the North American Province on November 3, 2007.
Jim's Early Years in Dover
Jim was born in the spring of 1919 in Dover, Massachusetts, in an estate farmhouse known as a musical gathering place. Jim's father, who had emigrated from Waterford in 1907, a fine singer and old style step dancer, played a Globe one-row melodeon. Jim's mother had come from Donegal. On Saturday nights, for company, they invited fellow immigrants to their home to end the workweek with song and dance. At the time, many Irish immigrants worked in private homes in the area. Any number of musicians might appear at the house on a Saturday night, playing fiddle, flute, accordion, whistle, or come to sing and dance.
First Tunes and Instruments
Jim recalls his Uncle Alfred Gavigan walking up and down the hall playing the fiddle, "Harvest Home" being one of his favorite tunes. So of course that was one of the first tunes Jim taught himself to play on his father's melodeon and on the small harmonica he was given as a gift at age ten. In fifth grade, Jim formed a small harmonica band with a couple of other students and performed at Dover Town Hall, an early taste of the musician's life to come.
Early Influences
The family had a Victor "graphophone" — and recordings of fiddle greats Michael Coleman, James Morrison and others in New York, as well as recordings of musicians in the Boston area, such as Gerry O'Brien on accordion playing with O'Leary's Irish Minstrels, recorded in the late 20s and early 30s.
House Parties
The family moved to the Boston area in the middle 1930s, and Jim continued to play, house-parties being the most common and popular venue for the music.
A harmonica In His Pocket
In World War II, Jim served in the U.S. Army in the Pacific, the Ameri-cal Division —in Guadalcanal, Bougainville, New Guinea, and in the Philippines. All the while, he carried his harmonica in his pocket —and often played in the foxhole, in the hours of waiting with a rifle ready, or at a gathering or club, for his fellow soldiers who also appreciated Jim's playing popular American tunes and familiar songs like "My Wild Irish Rose."
 The Accordion
When Jim returned home after the war, in 1945, he was able to buy an accordion with money his wife Margie had struggled to save for him. They held many a "kitchen racket" in their home in Belmont, and Jim played regularly for sing-alongs and weddings.
Irish Music Bands
The first band Jim joined after returning home was the Connaught Ceili Band formed by John Kearns, with Jimmy Hogan, Pat Martin, John Martin, Gene Ferry, the McDonaghs, playing out at Fields Corner in Dorchester on Sunday afternoons, sometimes Sunday nights elsewhere, then moving to Roxbury, then Mattapan, and Brighton. The band evolved over the years, playing in various clubs, with different members — Larry Reynolds and all, under different names — such as the Boston Irish Music Club. They played for many, many social dances and concerts, and were recorded.
"Harvest Home"
Besides these memories and recordings, Jim's family treasures include a memento from the 1960s, when he traveled to New York City to play for a troupe of step dancers from the Fitzmaurice-Moran School who were competing on the Ted Mack Show. Jim has the score of an arrangement for the studio orchestra accompanying his accordion on the hornpipe "Harvest Home," one of the first tunes given to him by his Uncle Alfred Gavigan so many years before.
Jim's beloved wife Margie passed away just recently* (RIP), but at age eighty-eight, Jim is still playing his harmonica, and learning new tunes.
*This Page was revised 9/2/2008 by Larry Tormey.
Addendum:
Jim passed away April 12, 2018 at the age of 98. See our
related post
.