CCÉ Northeast Regional Hall of Fame Inductee Brendan Tonra
Brendan Tonra, a member of the  Reynolds-Hanafin-Cooley branch of Comhaltas Ceoltóirí Éireann, was inducted into The Hall of Fame by The Northeast Region of the North American Province on October 28, 2000.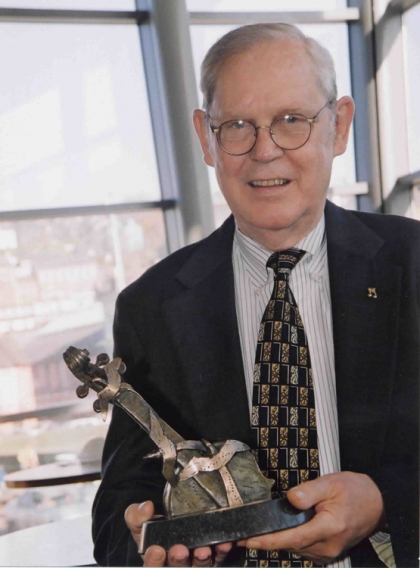 Brendan Tonra – Fiddle, Flute , Tin Whistle
Brendan Tonra – (fiddle, concert flute, tin whistle) came to Boston from Doocastle, Co. Mayo. He was a man known to have done a lot for Irish music in a quiet way.
Famous for Tonra's Jig
Many musicians will know his jig, "Tonra's" or "Tone Rowes" as it is sometimes called—a tune recorded by Sean Maguire, the Liverpool Ceili Band, Catherine McEvoy and others. In fact, in the last few years, Brendan has continued to put together tunes likely to be as popular as his double jig.
Musical Tradition
Brendan grew up amidst traditional Irish music; his father was a good fiddle player. Once a month, a fine night of music was had in the local creamery, with musicians playing for the dancers who battered out the sets on the stone floor, "and you wouldn't need a mike (microphone), either." says Brendan. People like Jim Durcan, Johnney Cawley, Pat Kelleher, John Henry and Mike Joe Ryan provided the music. Kennedy's in Doocastle was always a good place for a session. especially on a Fair Day. The boss of the house always had a fiddle or flute under the counter, and once the music began, the poor cows were soon forgotten.
Says Brendan, "My father played the fiddle and my mother knew all the tunes, but I didn't learn the fiddle from my father. I just picked it up when I was seven or eight years old and my mother showed me how to get the notes. Then my grandfather, John Henry, left me his fiddle, so after that I learned to play, listening to recordings at my aunt Peg Ryan's house. She had a phonograph and there I heard recordings of Michael Coleman and Paddy Killoran. At about age 16, I started playing at porter sprees and dances, hearing the likes of Johnny "Watt" Henry, Pack Spellman, Mick Joe Ryan, Jim Durcan, Johnney Cawley, and others, playing in the local Sligo style.
Brendan's Story – in His Own Words
I wrote my first tune in I954 at age 19, "The Gowlane Reel." I was left at home digging potatoes while my father went to a county council meeting, and since then many tunes have come to me while riding the bus or subway, sitting quietly at home, at work, or most anywhere it seems….but to get back to my playing days, when I was 16, my neighbor brought home a tin whistle from England—the first D whistle I'd ever seen—all the others I'd seen were in C. He gave it to me and I taught myself how to play. There was a fife and drum band in my town and to get into it, I borrowed a band fife and practiced on that, and that is how I got into flute playing, but I never got into a ceili band until I came to this country. In fact, the Connacht Ceili Band was the first band in which I ever played the flute.

The first band I played in was the Tara Ceili Band on Dudley Street, Roxbury, in the late fifties and early sixties, and there I played the fiddle. The first night my sister Frances took me to Dudley Street, the Tara Band was playing "Cooley's Reel". I was surprised to hear that music here, so when the dance was over, I went over to the band and said. I never thought I'd hear music like that in this country." They asked me how long I'd been in this country. and I said, 'a fortnight.' They introduced themselves to me: Mickey Connolly, accordion; Larry Reynolds, fiddle; Frank Neylon, flute; Tom Garvey, piano; George Shanley, drums; and Terry Landers, accordion.

They asked me to play a tune on the fiddle. and when I was finished, they asked me if I had a fiddle and a white shirt and black bow tie. and if so, to show up next Saturday night and I could play with the band for $12 a night, not bad for those times, and that's how I started playing in this country. After that band broke up and people stopped playing at Dudley Street, Mike McDonagh put together the Connacht Ceili Band. We did a record and took two trips to Ireland. Oh, we had some great times all right."
Since being in this country, Brendan has been an active member of Comhaltas, teaching flute and tin whistle to many students in the Boston area. He has also, over the last 45 years, compiled a book of tunes—composed back in Ireland and up to the present—tunes named for special people and events to honor them in the best way he could, with his own music, which is said to have his special brand of cheer and heartiness. Other artists have recorded Brendan's tunes: musicians mentioned above as well as Seamus and Martin Connolly, Marcas O'Murchu, Dezi Donnelly, Seamus Tansey, Brendan Bulger and Andy McGann.
Addendum
Email sent to our members February 4 2014 on the occasion of Brendan Tonra's death
Brendan Tonra, R.I.P. 
We are saddened to learn of the death of legendary fiddler and composer traditional Irish musician Brendan Tonra. Our sincere condolences to Brendan's family and friends. He will be waked on Wednesday from 3-8PM from the Lehman Reen & McNamara Funeral Home in Brighton with a funeral Mass on Thursday at Our Lady of Perpetual Help in Mission Hill at 10:30. His obituary is below (from the Boston Globe).
We share here  some fond sentiments and praise for Brendan in these website links:
Brendan was inducted into the CCE Hall of Fame in October 2000 and this article was written in our websites: http://www.cceboston.org/BrendanTonra.html.
Here is a video of Brendan Tonra on the fiddle with friends at the Irish Cultural Centre in August of 2013: http://www.youtube.com/watch?v=BlK4U-DnIRg.
Boston Globe's Obituary
TONRA, Brendan In Watertown, formerly of Gowlan, County Mayo, Ireland and Brighton, February 3, 2014. Beloved husband of the late Bridget (Donohue) Tonra. Devoted father of Barbara Pecci and her husband Stephen of Brighton, Sheila Tonra and her fiance Thomas Smith of St. Petersburg, FL, Jacqueline Ujlaki and her husband Frank of Winter Haven, FL. Brother of Josie Duffy of County Sligo, Ireland, Bill Tonra of Everett and the late Frances Monahan and Patrick Tonra. Loving grandfather of Stephen Pecci, Alexandra Ujlaki, Christopher Pecci, Bridget and Frankie Ujlaki. Also survived by 9 nieces and nephews. Funeral from the Lehman Reen & McNamara Funeral Home, 63 Chestnut Hill Ave. (nr. Brighton Courthouse) BRIGHTON Thursday at 9 am. Funeral Mass in Our Lady of Perpetual Help (Mission Church), 1545 Tremont St., Mission Hill at 10:30 am. Relatives and friends are kindly invited to attend. Visiting Hours Wednesday 3-8 pm. Interment New Calvary Cemetery, Mattapan. Late member of the Traditional Irish Music Community for over 60 years and composer of many Traditional Irish Dance Songs. In lieu of flowers donations in memory of Brendan may be made to the , 30 Speen St., Framingham, MA 01701. Funeral Home Handicapped Accessible. For directions and guest book please visit www.lehmanreen.com Lehman Reen & McNamara Funeral Home Brighton 617 782 1000
Published in The Boston Globe from Feb. 4 to Feb. 5, 2014 – See more at: http://www.legacy.com/obituaries/bostonglobe/obituary.aspx?n=brendan-tonra&pid=169500065&fhid=9261#sthash.1Ab12eDn.dpuf
There is a very nice "Im Memorium" blog post on Irish Massachusetts with an early photo of Brendan Tonra
Return to Hall of Fame