Annie Mullen Irish Music Scholarship
Wherever there was music there was Annie Mullen and whomever she could round up to support whatever artist was playing that moment. As a tribute to her endless support to all musical endeavors and to help keep Irish music going from generation to generation, the The Annie Mullen Memorial Irish Music Scholarship is being established in her memory and honor.
Donations Accepted by Our Branch
The scholarship will be managed by the Reynolds-Hanafin-Cooley Comhaltas Ceoltóirí Éireann Branch and is being launched to aid talented students to follow their Irish music dream.
Buy tickets here: http://johnbeag.com/ for the scholarship fundraising events: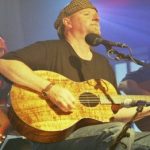 Direct From Ireland John Beag O'Flatharta
2 Very Special Nights in Boston April 14-15, 2017

Friday April 14th At the Irsh Cultural Centre, Canton
Limit to 150 which is a Special Up Close Night
to include a Good Friday Fish Dinner
Tickets for this Night – $100
Doors open at 7:00 P.M.

Saturday April 15th At The Teachers Union Hall, Dorchester
Tickets for this night $30.00
Doors Open at 7:00 P.M.
If you are unable to attend either event, Friday, April 14th or Saturday, April 15th 2017, donations to this scholarship in Annie Mullen's name may be sent to:
Michael Hickey, RHC Treasurer, 100 Woodpecker Road, Stoughton, MA 02072