CCÉ Northeast Regional Hall of Fame         Inductee Thomas (Tommy) R. Sheridan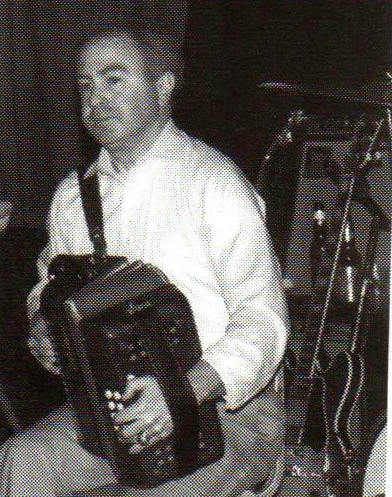 Thomas (Tommy) R. Sheridan – Button Accordion
Inducted to its The Hall of Fame by
The Northeast Region of the North American Province – November 10, 2001
Early Life and First Teachers
Thomas R. (Tommy) Sheridan was born in Boston of Irish parents— Thomas F Sheridan of Killawalla, Westport, Co. Mayo, and Brigid M. Walsh of Graystown, Killenaule, Co. Tipperary. Starting at age 8,  Tommy was taught by his father. His mother's cousin, Bill Holohan (fiddle) often visited the house and brought a couple of original O'Neill's books to help with reading music.   At age 11, Tommy began playing regularly on "Tommy Shield's Irish Hour" and on "Sy Fisher's Down East" radio programs.
Bands, awards and recordings
From the late 1950s into the 1970s, he was very active in the Irish music clubs flourishing in the Boston area.
Tommy won accordion championships in Boston, Cleveland, and New York, finishing second in Senior Accordion in 1961 at the Munster Fleadh in Cashel, Co. Tipperary.
In 1965, Tommy became a member of the Connacht Ceili Band and played on their 1966 recording. In 1969, he assumed the leadership of the band, bringing in new members and then taking the band on two successful tours of Ireland. Members of the band included Larry and Sean Reynolds; Pat and Paddy Reynolds; Jimmy, Sally, Maureen and Tommy Kelly; Eamon Flynn, George Shanley, Martin McDonagh, Joe Connolly, Pat Martin, John Winston, and Brendan Tonra. The band won many competitions, and for more than 25 years, performed at functions throughout the East Coast.
Tommy was a founding member of the Hanafm-Cooley Branch of Comhaltas Ceoltoiri Eireann, and played on the 1981 Boston Comhaltas recording " We're Irish Still ". He has been teaching the accordion since the mid 1960s.
***************************************************************************
Return to Hall of Fame
This Page  revised 2/22/2009