CCÉ Northeast Regional Hall of Fame     Inductee Thomas Senier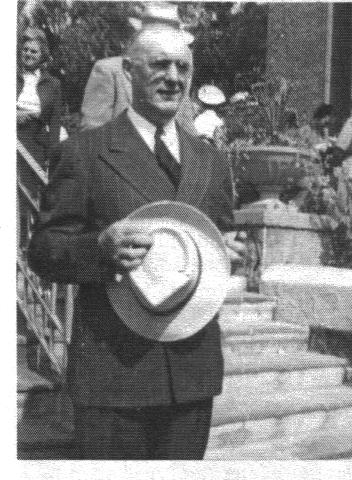 Thomas Senier – Button accordion
Inducted to its Hall of Fame by
The Northeast Region of the North American Province – November 1, 2008
Early Life
Thomas Senier was born in 1895 in the town of Galway, but settled in Clifden, his father Richard and he opening the Streamstown Woolen Mills outside the town. He was born "Senior," but his mother, Bridget O'Halloran Senior decided that the family wasn't going to have an English name—and so spelled their name "Senier." Her husband's father, Thomas Joseph Senior had emigrated from Yorkshire to Tipperary in the 1880s, marrying an Irish Catholic when "it wasn't the safest thing to do." The whole "Senier" family has followed Bridget Senier's path in this.
The Senier house was full of music, Richard Senier an accordion player, as were his two brothers; and son Tom was an accomplished fiddle and mandolin player, and probably played the accordion as well. At the age of 16, in 1911, he ran away from home, lying about his age to join the Connaught Rangers of the British Army. Home on furlough, he married Bridget "Delia" Connolly, of Ballyconneely, Co. Galway, and two days later returned to the service in India and in what then was Persia (now Iran). Many of the Connaught Rangers were musicians, with instruments at hand, and no doubt Tom continued to play music. Already a sergeant at 16, he was mustered out at the highest non-commissioned rank, Sargent Major, in 1919. During hostilities, he had been shot in the wrist and bayoneted in the back, so lost feeling in his left hand; no more fiddle or mandolin playing, but he could switch to the button accordion, and did. In 1926, Tom emigrated to Boston, his wife Bridget and two sons following six months later—two other sons going first to Ballyconneely to maternal grandparents and then traveling to Boston in 1930. Eventually Tom's and Bridget's family included eleven sons, no daughters—and the boys called their Dad "T.A." Very soon after his arrival in Boston, Tom was much in demand as an accordion player—playing with the Dan Sullivan Shamrock Band, among others, and later with his own Emerald Isle Orchestra.
T.A.'s father and four sisters also had emigrated. And soon father and son were back in a handweaving business, eventually called "Celtic Weavers." During WW II, Tom joined the war effort in the shipbuilding factories, and three of his four oldest sons entered military service. His fifth son died of diphtheria at age two.
A popular musician at dance halls and weddings, Tom loved other musicians, especially the Canadian and Scottish, and was always bringing someone home to the Senier house—among them, the legendary Sean McGuire of Belfast whom son Richard recalls being privileged to accompany on piano on two of Sean McGuire's American tours. The Senier house in Dorchester, Massachusetts was the scene of many "kitchen rackets," several of which included Canadian fiddlers Winston "Scotty" Fitzgerald, Bill Lamey, and others. Richard declares that he and his musician brothers "cut their teeth" on the performances of heroes like Larry Quinn of County Down and Massachusetts."
Tom was president of both the Irish Social Club and the Irish Music Club of Roxbury, their meetings on Sunday afternoons at the AOH attracting the children of other immigrants—who came to be regarded as the equals of their forebears. According to son Richard, chief among the accordion players of his generation was Joe Derrane (also gifted in playing modern music, excelling both on piano accordion and keyboard) whose brother George was a fine banjo player. Tom encouraged his sons to take up the "cudgels," and brought them along to his paying jobs—Richard playing accordion in his father's band at age 8. Several of Tom's sons play the box very well. Youngest son Jack paid college tuition by accompanying their father at weddings and other social events—and is now a highly respected jazz pianist on the East Coast. Especially in the 1940s, Tom ran Irish dances at Winslow Hall and the Hibernian Hall, and was very active in the feis movement—still playing gigs until the time of his death.
While shaving at home, preparing to play accordion at the Irish Social Club in West Roxbury, Tom had a stroke and passed away instantly at the age of 81. His son Richard emphasizes that, although his father couldn't read music, he welcomed music of all kinds, learning Polish and Italian polkas, and popular tunes. But Irish music always was his favorite.
Tom Senier and Jack Storer with the "Emerald Isle Orchestra" — 1938
The two ladies seated on floor are the Fitzmaurice sisters.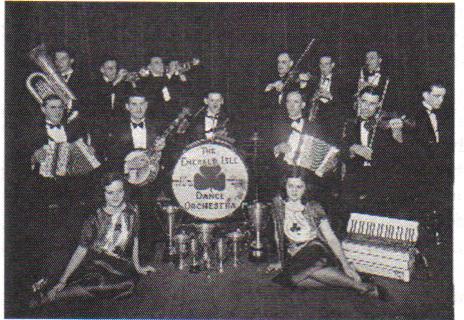 First row, left to right: Tom Senier on accordion; Joe Fahey, banjo; Dick Hannaway, drums; Jack Storer, accordion; Joe Doucet, violin; John O'Connor, piano. This was not really the orchestra, but a publicity photo. However, most of the others were legitimate musicians. All of the first row played regularly with my father, Tom Senier
~ Tom Senier and family ~
This photo was taken in 1940 when Tom's mother was 46 years old and his father was 45 years old.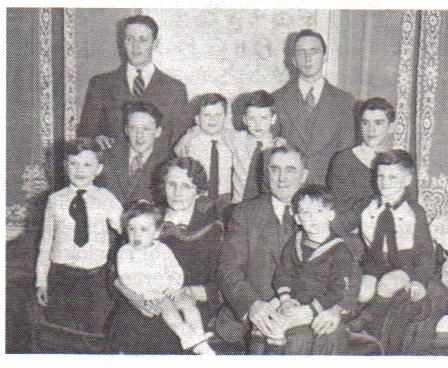 Top Row: William and Frank, both born in Galway
Second Row: Thomas Jr., born in Dublin; Gerald; Richard; Leo, bom in Dublin;
First Row; Robert Emmet, Delia (mother) holding baby John (Jack); Thomas (father) holding Edward James (Jim); Arthur.
Joseph, the fifth son, died in 1930 of diptheria
Return to Hall of Fame
This Page  revised 12/31/2008
---