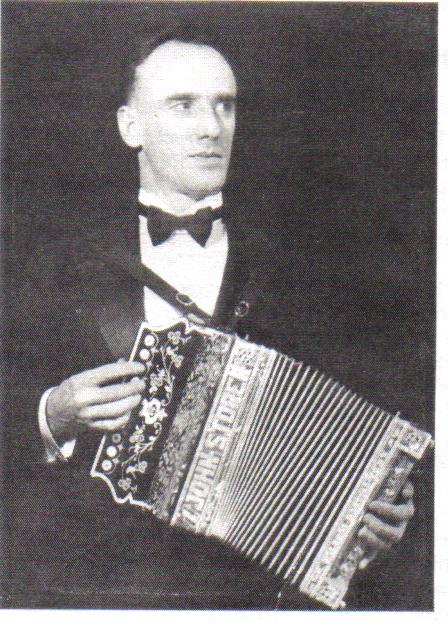 John "Jack"  Storer – Button accordion
Inducted to its Hall of Fame by   The Northeast Region of the North American Province – November 1, 2008
John "Jack" Storer was born in the town of Kinsale, Co. Cork, Ireland, on March 4th, 1898. At an early age his love for both traditional Irish music and sports inspired him to learn to play the button accordion, and to become a very proficient hurler, playing on local teams. When Jack came to the U.S. in 1920, settling with relatives in East Cambridge, Massachusetts, these talents likewise led him, in his new home, to local dance halls and to sporting events in the Greater Boston area, where hurling was still his favorite.
In 1921, Jack joined the "Redmond" hurling club, a prominent team in the Boston area—and that same year, when the "Redmond" team won the Greater Boston Gaelic Athletic Hurling Championship, Jack and his teammates were presented with gold Celtic Cross medals of accomplishment by the Central Council of Irish Counties of Boston. Although he was a gifted athlete, Jack's love for the accordion increasingly occupied him. A popular accordionist, he played at many of the dance halls in Greater Boston and at the "kitchen rackets" around town—giving lessons to anyone willing to spend the time to learn—including a young Billy Caples. While playing on the dance hall circuit, Jack met Mary "Mae" Diviney from Gort, Co. Galway. As their son Frank tells the story, "Love was in the air." They were married at St. Teresa's Catholic Church in West Roxbury, in October of 1926. Of their four children—Mary, John "Finbar," Frank, and Laurence—the boys formed a number of musical groups early on, then entertained as The Shannonaires for many years.
In the 1930s, Jack and his friend Tom Senier formed an Irish dance orchestra—The Emerald Isle Orchestra—an immediate and long lasting success, including at times as many as twelve musicians, with bookings made months in advance. Based at Winslow Hall in Dudley Square, Roxbury, the orchestra endured through the 40s and into the early 50s, playing for thousands of dancers at hundreds of events, and contributing enormously to the life and preservation of "traditional" Irish music.
Working originally as a laborer in the gas industry's street department, Jack foresaw the advent of the natural gas industry. Enrolled for several years in the Extension Program, Jack earned his technical degree in Natural Gas and Refrigeration from Harvard University. When new technology made natural gas available in the Boston area, he transferred to the service department, eventually retiring years later as a "Class A" gas service inspector. In 1997, after suffering a rare form of paralysis, myasthenia gravis, Jack passed away at the age of 79. He is buried beside his wife Mae at Holy Cross Cemetery in Maiden, Massachusetts.
Return to Hall of Fame
This page was updated by Larry Tormey 12/31/2008