CCÉ Northeast Regional Hall of Fame Inductee Jimmy Noonan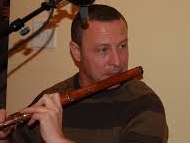 CCE Northeast Regional Hall of Fame Inductee
Jimmy Noonan (Wooden flute) Inducted to its The Hall of Fame by The Northeast Region of the North American Province – November 5, 2005
Early Life
Jimmy Noonan (Wooden flute) was born in 1962 in Cleveland. His father John Noonan, from Clare, loved the music and encouraged his son to play—and in fact Jimmy's teachers were good friends of John's. Tom Byme of East Clare was his principal teacher; Tom McCaffrey of Lietrim and Frank Barrett of Mayo also were great musical influences. So Jimmy developed his style and repertoire drawing from Sligo and Lietrim music more than from the music of Clare. He also played in the sessions of the Irish Musicians Association in Cleveland, often with Michael Flatley, another great influence on Jimmy. Jimmy twice won the Western U.S. championships on concert flute and tin whistle. In those years. Jimmy also studied step dance in the Tessie Burke School, and in 1978 was the Mid-Western Under 18 Stepdance Champion.
Having lived in Boston for many years now, Jimmy has performed with regional bands such as Steeplechase and Spailpin (Jimmy, with Louise Costeloe (banjo & accordion) & Tommy McCarthy, Jr. (fiddle), a well known duo of performing musicians who operate the Burren Pub, and Vincent Costeloe of Ennis). Jimmy has also played at a variety of festivals, including the Washington Irish Folk Festival in Vienna, Virginia (in 1993 with Seamus Connolly & others, and in 1998 with Chris McGraw (fiddle) & Tony Cuffe (guitar & vocals, RIP)-
In 1993, Jimmy released his solo album The Clare Connection with guest musicians Seamus Connolly (fiddle), Tommy McCarthy, Sr. (concertina, of Kilmihil, Co. Clare) and Tommy McCarthy, Jr. He released The Maple Leafs 2001, with Chris McGrath (fiddle & concertina), in the same year opening Noonan's Music Shop in Norwood, featuring Irish albums, music books, and on-site concerts by very fine traditional musicians and singers—a shop Jimmy operated for 3 ? years. He was invited to play for Irish President Mary McAleese for the 20th Anniversary of the Boston College Irish Studies Program.
Jimmy lived in Toronto for several years, playing and teaching. He has lived in Boston since 1985, now with a young family—and for the past fifteen years has been teaching Irish flute and tin whistle privately there. For the past eight years he also has taught as an Adjunct Professor in the Boston College Irish Studies Music Program. Jimmy has continued to play in concerts locally and beyond Boston, with the Boston group The Maple Leaf and others, and leads a very popular regular music session in J.J.'s in Dorchester, Massachusetts on Friday nights
Return to Hall of Fame
This This page was revised by Larry Tormey 9/2/2008.