CCE Northeast Regional Hall of Fame Inductee Eugene Preston – Flute
Eugene Preston (flute) was inducted to The Hall of Fame by The Northeast Region of the North American Province posthumously on February 19, 2000.
What Other Musicians Say About Gene Preston
Eugene (Gene) Preston was affectionately know as "the Boss" by Irish musicians in the Boston area, as noted in "Forget Me Not" (page 114),  a collection of fifty traditional Irish tunes compiled, arranged, and recorded by Seamus Connolly and Laurel Martin.
It is noted about Gene when talking about the tune The Flowery Hills of Scotland in Seamus Connolly's collection of Irish Music:
 I have not had the opportunity to hear that old recording, but Brendan Bulger's playing on this track reminds me of the lilt and swing of yet another County Sligo man's music, that of flute player Eugene Preston, from whom I learned the tune.
The Prestons And Their Music – 1987
Below is a newspaper clipping from the Corran Herald's Christmas edition 1987 (link's to the newspaper).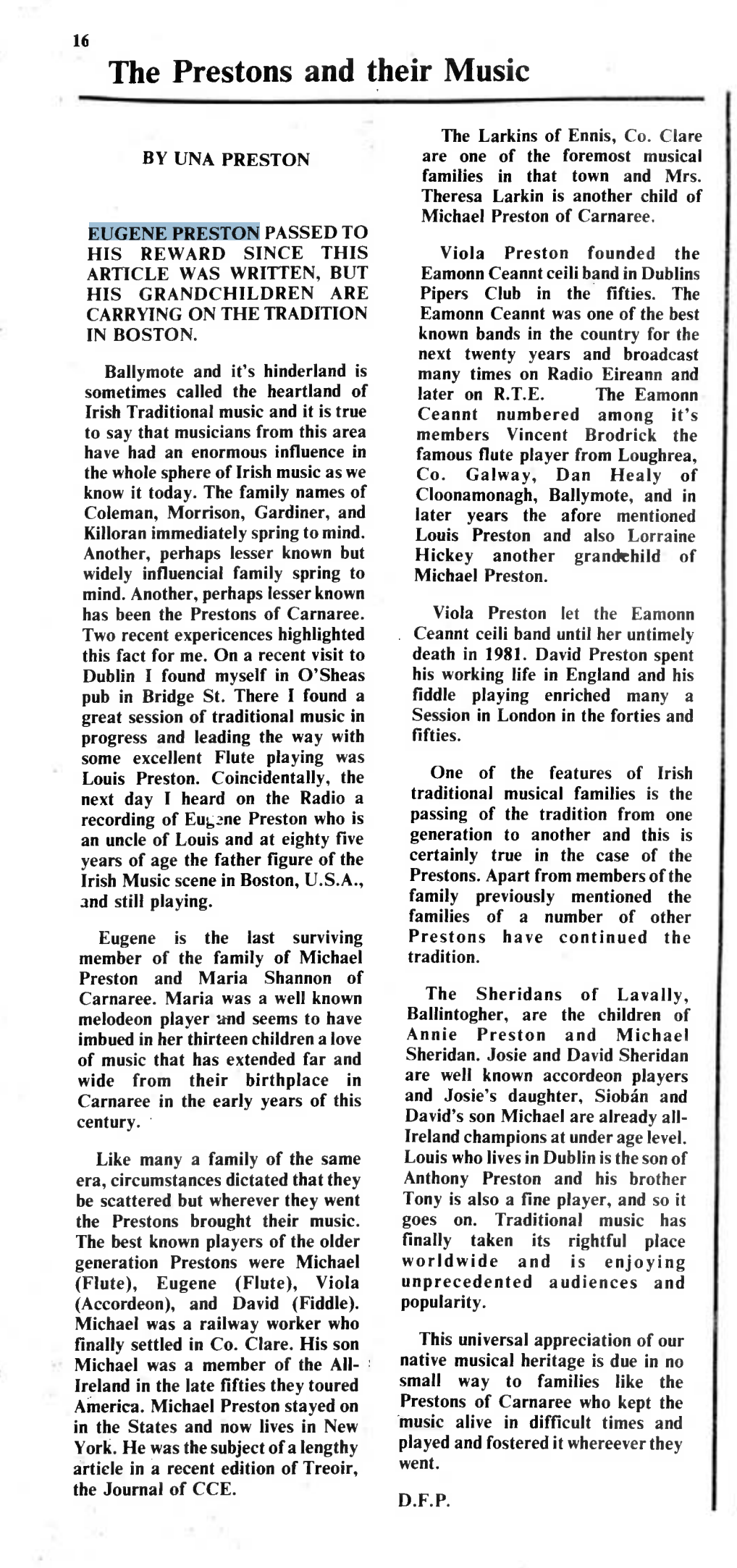 http://ballymoteheritage.com/wp-content/uploads/2016/07/12-1987.pdf
Sligo Origins to Boston Irish Music Scene
Gene Preston was born in 1902. He was a famous Irish traditional musician who come from the province of Connacht. He was still playing music when he was 85 years old. [I am searching for his year of death.] This article below gives more information on his time as a flute player in Boston.
"Sligo traditional musicians were important in the revival and transmission of this tradition when they emigrated to New York. Michael Coleman, James Morrison and Paddy Killoran were all recorded at this time. Musicians such as Joe O'Dowd and Eugene "Gene" Preston kept the Sligo tradition alive in the area through the middle of the 20th century. Gene Preston emigrated to Boston, MA (Dorchester) and played in all the dance halls from the 1950s to 1970s." [https://en.wikipedia.org/wiki/Sligo]
[page being updated – if you have additional information on Eugene Preston, we would appreciate hearing from you.]
Return to Hall of Fame