CCÉ Northeast Regional Hall of Fame Inductee Brendan Bulger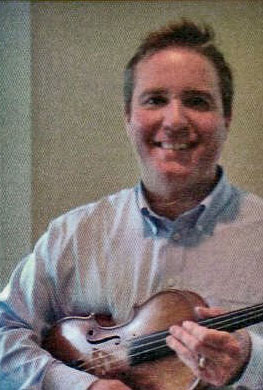 Brendan Bulger, a member of the  Reynolds-Hanafin-Cooley branch of Comhaltas Ceoltóirí Éireann, was inducted into The Hall of Fame by The Northeast Region of the North American Province on November 3, 2011.
Early Training with Seamus Connoly
Brendan Bulger (Fiddle) was born and raised in South Boston, Massachusetts. He received his first instruction from Seamus Connolly, one of the world's most respected master Irish traditional musicians and teachers (and another Hall of Fame inductee).
Influenced by Larry Reynolds
Much of Mr. Bulger's initial interest and subsequent maturation in traditional Irish music were fueled by Larry Reynolds and his family, who have been largely responsible for the sustenance of traditional Irish music in New England over the past nearly 50 years.
Brendan currently lives in the Boston area with his wife Caroline and children Eleanor, William, and John and continues to be active in the local and national traditional music scenes.
Widely Praised for His Fiddle Playing
Mr. Bulger's fiddle playing has been the subject of feature articles in such publications as Treoir, Boston Magazine, Boston Irish Reporter, and the French language Trad Music Magazine.
Accomplishments
He has teaching, performing, and prize-winning arranging and recording credits that extend internationally. These include seminars at Berklee College of Music, the Montana State Old Time Fiddler Society, the All Ireland Fiddle Championship, and 3-time Ceili Band Championship of U.S. Midwest Region. His credits include the prize-winning recording "Music at the House" with Marty Fahey and Kathleen Gavin, the Huntington Theatre production of "The Last Hurrah" by Edwin O'Connor, and the soundtrack of the independently released film, "The Bounty".
Reviewed by New York Times and The Boston Globe
The New York Times Paper Cuts blog called Brendan Bulger's fiddling "so powerful that you want to sneak a peek at his instrument, check to see what's inside." The Boston Globe has said Brendan Bulger makes "one fiddle sound like two" and is "prodigiously talented." The Irish American News remarked that "Bulger's fiddle playing is perfect… and (try as we might) there is nothing more to say. He is wonderful. Period. Full stop."
Teaching Credits
Berklee College of Music Seminar (Boston, MA)
Boston College Gaelic Roots Festival (Chestnut Hill, MA)
Old Town School of Folk Music (Chicago, IL)
Montana State Old Time Fiddler Society (Great Falls, MT)
Swannanoa Gathering (Asheville, NC)
World Folk Music Company (Chicago, IL)
Awards
Top Ten Irish Traditional Album of 2003, Irish Echo 1990
All Ireland Fiddle Champion 1991 Runner-up All Ireland Slow Air Championship
9-tiine 1st Place in North American Irish Fiddle Competitions
1991 Boston Music Award Nominee
Member of Championship Ceili Band, Midwest Region, 2001-2003
Audio Recordings
Music at the House, Marty Fahey, Kathleen Gavin, 2003
The Sprigs, Marc McGowan, James Conway, Bill Knox, 2003
Anish, Anish, 2001Brendan Bulger, Brendan Bulger, 2001
Coll, Pat Broaders, Sean Ryan, 2000
Music for Your Favorite Dances, Noel Henry's Irish Showband, 1993
[This Page was created 11/15/2011 by Larry Tormey.]
Return to Hall of Fame