CCÉ Northeast Regional Hall of Fame Inductee  Patrick Hutchinson
Patrick Hutchinson was inducted into our Regional Hall of Fame in 2017 in recognition of his skills and achievements as a Uilleann piper and for his contributions as a dedicated pipes teacher.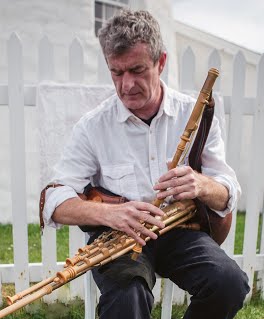 Patrick Hutchinson is an internationally recognized performer and teacher of the Irish Uilleann pipes with more than thirty
years' experience and an eclectic repertoire that encompasses both the traditional and the experimental.
Education and Style
Originally from Liverpool where he had his first lessons on the tin whistle, he subsequently learned to play the pipes in Toronto, Canada under Chris Langan. He holds a Ph.D. in Ethnomusicology from Brown University, the subject of which was the highly admired musician and teacher Chris Langan. He is proud to continue Chris' traditional piping tradition.
Awards and Recordings
He has twice won the All-Ireland title in Uilleann Pipes Slow Airs, twenty-two years apart, most recently in 2014 in Sligo.
Patrick has appeared on WGBH's A Celtic Sojourn, with the Cambridge Revels, and on recordings by Loreena McKennitt and Oliver Schroer, among others.
Productions
Patrick has provided the music for many theatrical productions including Brian Friel's Translations, Frank McGuinness's Observe the Sons of Ulster Marching Towards the Somme, and Carthaginians, and his piping can be heard in the Highlander movies.
Teacher
Since 2010, he has taught the pipes at the Boston Comhaltas Music School. His proficiency as a teacher has been demonstrated by the fact that two of his students, Torrin Ryan  and Keegan Loesel, have won the Under-18 All-Ireland title in Uilleann Pipes Slow Airs.
For additional information and to hear Patrick play go to Patrick's website
Return to Hall of Fame