CCÉ Northeast Regional Hall of Fame Inductee Pat Martin 2005
Pat Martin was inducted into The CCE Region of the North American Province Hall of Fame in 2005. His instrument of choice was the wooden flute.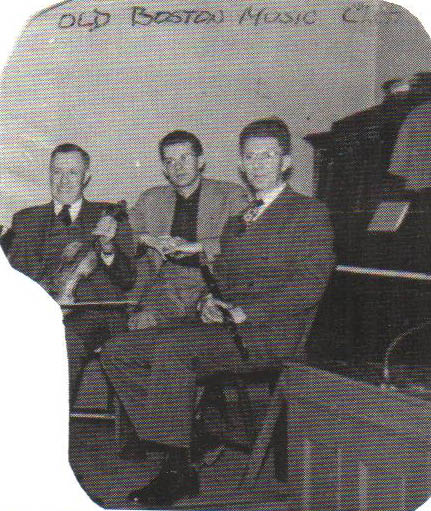 "Old Boston Music Club" Pat Martin (right) Gene France (center) Larry Quinn (left)
Inducted to its The Hall of Fame by The Northeast Region of the North American Province – November 5, 2005
Pat (Patrick) Martin (RIP) (wooden flute) was born in Portumna, Co. Galway on February 28, 1903. His musical family included brothers Tom (flute) and John (accordion and mouth organ). The family came to America in April of 1927, and as Pat was the oldest he helped care for the whole family, throughout his life. His son Johnny describes his father as a very religious and caring father, encouraging his son to play the accordion at age ten, and also encouraging other young people interested in learning Irish music—a credit to his family and to Ireland. Pat took his son all over the Boston area playing at clubs and to sessions at musicians' homes at least once a week. Johnny describes these as great times.
Pat founded the old Boston Irish Music Club in the late 30s, located in the Emery Hall on Fields Corner. Pat was musical director, his brother Tom was President, and their brother John was Vice President. A great music dub, it was a forerunner of Irish music dubs to come. He also played with the famous Connaght Ceili Band, including such musicians as Larry Reynolds, Martin McDonagh, Joe Connolly, Mike McDonough, Brendan Tonra, Tommy Sheridan, Sally & Jimmy Kelly—a dance band which recorded in 1966 and toured Ireland twice, in 1969 and 1970.
Pat continued to play music at the clubs until age eighty-two, and passed away on December 13, 1985. Of course, Johnny misses his Dad's company, especially when he plays the music his father taught him.
Return to Hall of Fame
This Page  revised 9/7/2008