CCÉ Northeast Regional Hall of Fame     Inductee Mary Irwin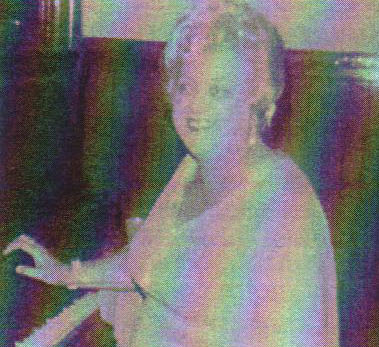 Mary Irwin, Piano,  Inducted to its The Hall of Fame by
The Northeast Region of the North American Province – November 3, 2007
Background
Mary Irwin (RIP) was born in 1906 in Irish Cove, Cape Breton, Nova Scotia, Canada. Her great-grandfather John Cash had emigrated from County Waterford and established the community of Irish Cove with his two brothers. Mary was the youngest of twelve children born to Colin and Kate Cash.
 Music …a family affair
The Cash household was a musical one, her father and some of her brothers playing the violin. Mary and most of her sisters played the parlor organ, and at the age of five she was asked to chord for one of the violin players —her first piece being the jig, "Old Man Dillon."
Immigration
In the early 1900s, many young people from Nova Scotia traveled to the Boston area to find work, and so Mary followed most of her brothers and sisters to Boston in 1922, and there she finished her education.
Playing with many of the best Irish musicians of the day.
Mary was called on by the local violin players from the Maritime Provinces to play for dances and quickly found her playing much in demand. In 1935, she married Al Irwin whose parents had come from County Tyrone, and they had four sons: Eddie, Billy, Richie, and Jackie. Introduced eventually to the Irish music scene,  Mary was soon playing with many of the best Irish musicians of the day. She was a member of Jack O'Sullivan's Irish Hour Band playing on radio station WVOM in the late 1940s and into the 1950s, She played with Connie Hanafin's Irish Orchestra, and often with noted fiddle player Paddy Cronin. Mary also enjoyed playing with
Billy Hanafin
, especially when Billy's Uncle Mike joined them. She used her ability to play in the style of Dan Sullivan: with an active right hand playing the melody of the tunes! Some of their homemade recordings still exist, treasures of those days.
Mary's husband, Al, passed away in 1955, leaving Mary to raise their four young sons, Jackie being the youngest, age three. Working full-time, Mary still managed to play at dances, weddings, and socials.
Passing her talent to her sons
She passed her talent to her sons, and they soon were "playing out" as well. Eddie was an accomplished pianist and organist who played quite a bit with
Joe Joyce
(RIP), and recorded with Paddy Cronin. He also played at the "Down-East" dances with top violin players, including Bill Lamey and Angus Chisolm, and recorded two LPs with Joe Cormier. Billy was the piano accordion player in the family, playing with Desi Regan, as did Eddie, and for several years with John Foley and the Diplomat Show Band. Richie was the saxophone player and singer. Jackie was the drummer, and with Richie formed the group 3 Plus 1, playing for many years throughout the greater Boston area. Jackie was also a drummer with the Connaght Ceili Band that traveled throughout Ireland between Christmas and New Year of 1969. Besides playing with other groups, all played frequently as the Irwin Family Band in such venues as the Canadian American Club.
Happy to sit at the piano..to play with young musicians.
Mary was a regular at the Irish social clubs and the Boston Comhaltas seisiuns. She was thrilled to have been part of the group LP recorded by Hanafin-Cooley Branch," We're Irish Still", in the early 1980s. In 1984, Mary was presented with a plaque from Comhaltas as she shared the stage with fellow Irish musicians from the past, and was delighted to be recognized in this manner. Through the remainder of her life, Mary played at dances and socials, happy to sit at the piano, and especially happy to play with young musicians.
She passed to her reward in heaven in 1990.
********************************************************************
This Page  revised 9/7/2008