A CHAMPION of traditional music has died following a fall just moments after she accepted an award for her contribution to Irish culture.
Prior to her retirement this year Anne had arranged one last tour, Echoes of Erin 2016, which ran for 10 nights over the last fortnight at the Gerry Gallagher Hall in Toronto. On the final night of the tour last Sunday, October 2, Mrs. McConnell-Strong was invited on stage at the end of the show to accept an award in appreciation for 37 years of hard work which she accepted, beaming. On her way off of the stage, she fell. Tragically, she succumbed to her injuries.
Obituary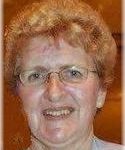 McCONNELL-STRONG, Annie – The family of Anne McConnell-Strong is devastated to announce her tragic passing on Monday, October 3rd, 2016.
A beloved wife, sister, mother, grandmother and great-grandmother, Anne was a loving light to her family, friends, and community, and a source of infinite grace and comfort.
Born in Co. Galway, Ireland, Anne trained as a nurse in England, and eventually settled in Canada in the 1960s. She quickly became a treasured part of the Irish community in North America, and owned two Irish pubs, Finnegan's and Muldoon's, as part of the Frontenac Hotel.
In 1978, Anne founded the local chapter of Comhaltas Ceoltóirí Éireann, was elected chairperson of the Eastern Comhaltas Regional Board in 1988, and spent nearly four decades ceaselessly promoting the development and preservation of Irish traditional music, dance and culture in Canada and the United States.
Anne is survived by her beloved husband Elmer, with whom she recently travelled the world, and with whom she shared a beautiful home in Glenburnie, Ontario, Canada. She is survived by her children, Ita (Pat), Dympna and Fintan (Katie), her grandchildren Madison, Wyatt, Austin, Shane, Liam, Fiona, Emer and Anais, and her great-grandchildren Bruce, Willamina, Sallyanne, Maeve, and Emrick.
Sister of Kate Lawton (Joe) of Kingston, Mary Finn (the late Sean) and Sally Burke (the late Brendan) of Ireland, and the late Teresa Kearney. She will be missed by her numerous nieces and nephews, and Elmer's children Maureen, David (Linda), Larissa and Sonya, and her son Jack.
The family will receive friends at the Robert J. Reid and Sons Funeral home, Kingston on Thursday, October 6th between the hours of 4 pm -7 pm.
Mass of Christian Burial will be celebrated at St. Joseph's Church on Friday, October 7th at 10:30 am. Rite of committal with prayers to follow at St. Mary's cemetery.
Anne was a gift to this world, and was loved and respected by all who had the pleasure of knowing her. She will be dearly missed, but her light will continue to shine in the lives of all of those she blessed with her presence.
In lieu of flowers, memorial donations may be made to Martha's Table.